Our nervousness increased the closer Masia approached the Maisha Bora house with us. The drive was full of excitement because this road was new to us. We couldn't even get out of the car before Anjelina and Allen were already at the car to be the first to cuddle us.
Wow - we were caught off guard with so many emotions. The whole Maisha Bora team and the kids from Saturday club prepared various surprises. Various posters, dances, touching speeches and thank you messages from the kids and staff were delivered for the NUKIA team. It was very heart touching with how much love they have prepared here to welcome us. During lunch we had a lot of time to chat and exchange.
The children proudly showed us their Maisha Bora house and the surrounding area.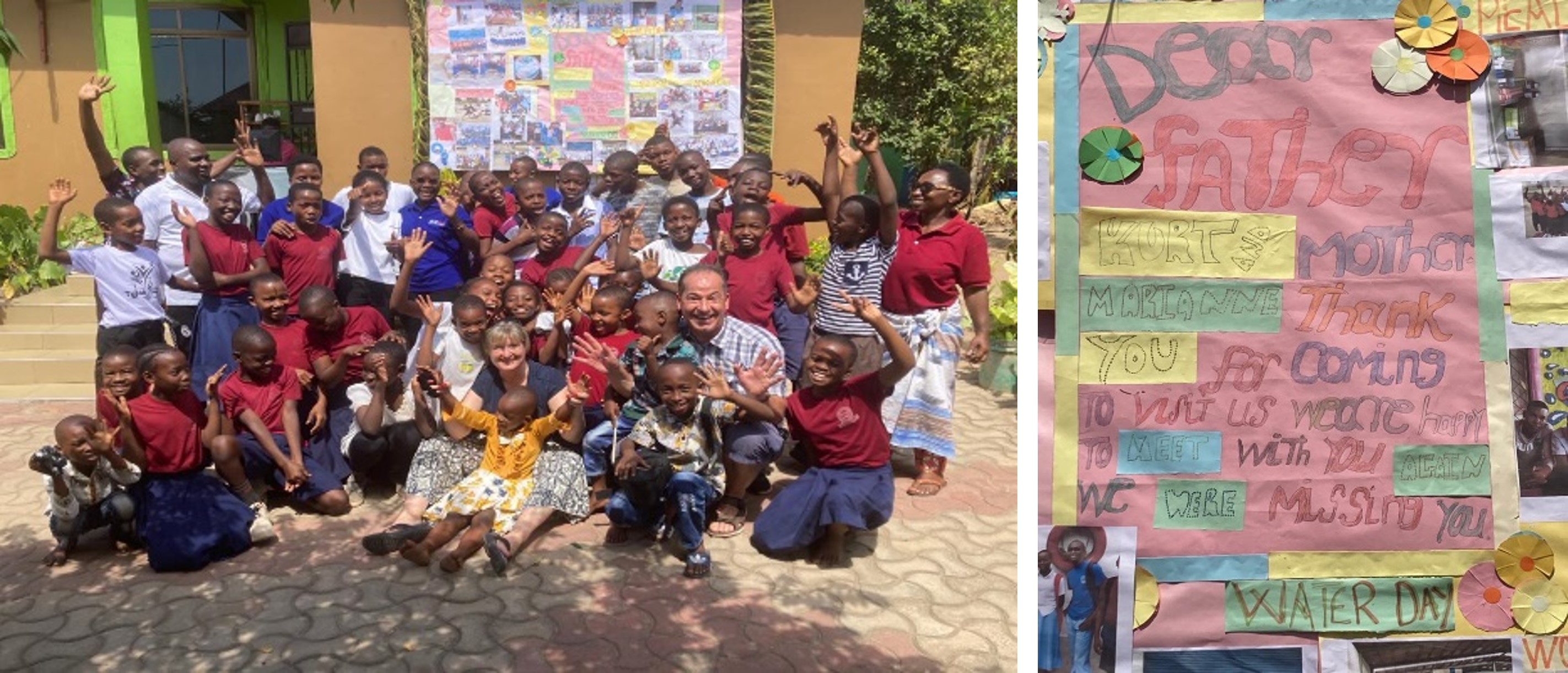 Since there was no safe accommodation for us in the area close to the children's home and there was no room at Maisha Bora House itself, we rented a room in a hotel where we had stayed the last few years. However, this is a good 40 minutes drive away. So Kurt got behind the wheel and we started every morning and evening the turbulent, hectic, and challenging drive on the roads of Tanzania.
On Sunday morning we got up very early, because at 8:15 a.m. we met at Maisha Bora House. Together we went to a nearby church and were able to experience a beautiful 2-hour service. Already the footpath was a challenge for us, because it went across field in and I just always hoped not to meet any of these long creepers (called snakes). The children found this very amusing and reassured me that they will protect us and we don't have to be afraid.

After church, we immediately started playing games again: Lotto is the new community game in which all kids and staff can participate. Mama Lucy prepared a delicious lunch and later in the afternoon we all went to the beach and the kids had fun in the water. At the end we had ice cream for everyone. Nice to see such happy and satisfied kids.

On Monday morning, the tour of Mapinga School was on the agenda:
The rebuilt Maisha Bora classroom, the shipping container kitchen, the boys' toilet facilities, which were already finished, and the girls' facility, which will be rebuilt in the next weeks. There were also two young teachers on site who were very happy and thankful for the great partnership.
We were also allowed to visit Kasim at home with his grandparents (picture on the left). Kasim was quite nervous and greeted us all very stormily. Full of pride he took me by the hand and showed us his home. Unfortunately, Kasim lost one of his grandmothers a few weeks ago. Mama Leah and Abdalla are accompanying the family and looking out for Kasim's well being. We are grateful to know that they are doing a valuable job here.
The little girl Mwamini (picture in the middle) also visited us to thank us for paying for her tonsil surgery. We are very happy that Mwamini is feeling better again.
We also received a warm welcome when we visited Yasin (picture on the right) and his mother. Yasin is 16 years old and suffers from a hereditary disease "sickle cell anemia". It was a matter of finding out how we can help him together. He urgently needs drug treatment, which takes six months and costs 500 USD. Yasin is a very bright, friendly boy and a good student. We have decided to cover the costs of his treatment and hope that the medication will be effective so that Yasin can have the future he dreams of. We will keep you updated.

Since the children have the big vacations, we decided to make a larger excursion. We went with the rented bus in the direction of Dar es Salaam. Of course we had to pass the new "Tanzanite Bridge" and then we went to the "Kigamboni Ferry". This trip itself was an adventure not only for the children but also for Kurt and me☺.
On Tuesday we visited Hope & Wonder - once arrived, Angela greeted us with her warm manner. Our children have never been with so many severely disabled children. At the beginning, they were all very reserved - understandably. But after Angela told us a lot about the individual children and explained what the children love and what they don't, more and more of our kids approached the lying children. We are very proud of how everyone integrated and how friendly everyone was with each other.

After a joint lunch the kids enjoyed swimming in the therapy pool and they totally earned it. We are very happy that we can have a partnership here and as Leah and Angela told us, there will certainly be another visit soon. Together we can be stronger here as well. We returned to the Maisha Bora House completely fulfilled and grateful.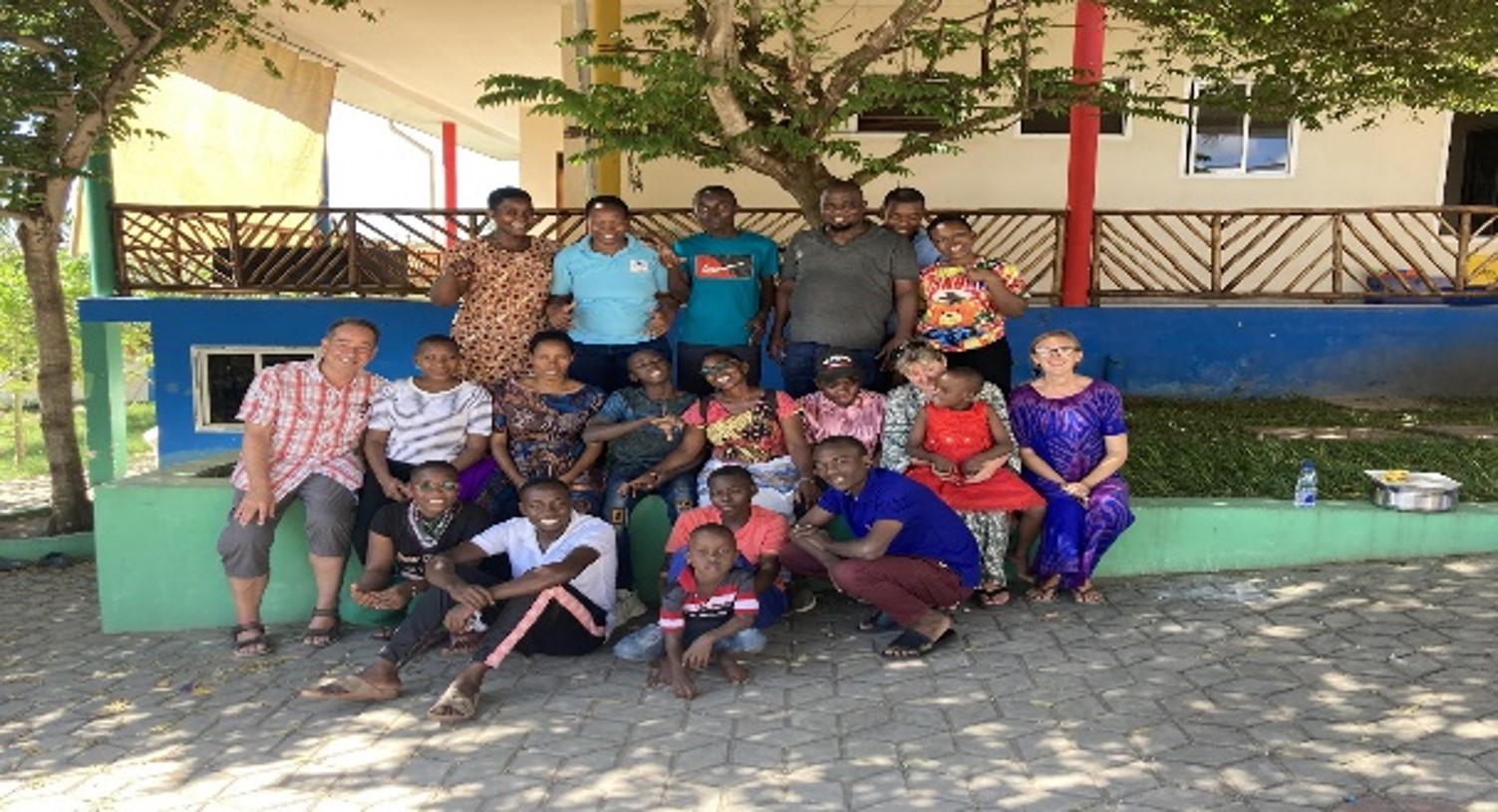 Wednesday, we dedicated all alone to Mama Leah. Together we looked for different souvenirs on a tourist market. Leah wanted a drum for the club, and she chose door signs for the doors in the children's home.

Over lunch, we had time to chat about many things and learn how Leah has been doing over the past 2 years. Of course, we were also able to deepen all our discussion points in the dialogue. In the afternoon Leah showed us her home. Peter, her husband, was already waiting for us, as well as the teens who sleep with Leah. Thank you, Leah and Peter, for giving us a glimpse into your private life.

Thursday was the big moment for our teenagers Angela and Zainabu: a tour of the Tuwapende Watoto training grounds. Emmanuel led us through the different classrooms and told us with heart and soul about what was going on. Iin Zainabu's learning room of the bakery we were allowed to hand over the Richemont book to her trainer Judith. Thank you, Hans, for organizing it, you can't imagine the joy she and her team expressed.
Angela proudly showed us her training place in the tailor shop. Wow - we are speechless how everything is organized, and we are very happy that we will be able to give more children such an education in the future. This is the optimal start into a professional life.
Emmaculate led us through the whole school area, day care center, kindergarten, elementary school and secondary school. We were guided by Mama Bea through the children's home, which is run very neatly, warmly and lovingly. All in all, a very valuable visit and we are grateful for the precious contact.

On Friday, the trip to Maisha Bora House was not so easy for us, as it was time for us to say goodbye.
Mama Lucy baked with some of the children, others had private lessons and still other children were playing games. In the early evening there was dancing, singing and some of the children performed again and gave speeches. There was laughter and tears. We love to take the lovingly designed cards home and we would like to share them with you.


Thank you for the wonderful time.
Marianne und Kurt
Wherever you go, go with all your heart. - Confucius